This powerful .26 HP motor tool is designed for use in general paint shop applications for buffing or polishing. Includes a 3M™ Hookit Disc Pad.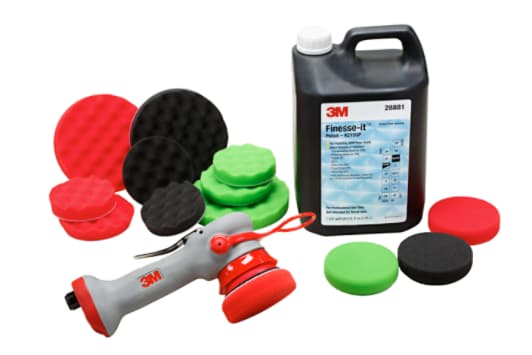 Recommended for use with 3M™ Finesse-it™ Polishes and Foam Buffing Pads (sold separately)
Getting the Most From the 3M™ Finesse-it™ System
Used together with 3M™ Finesse-it™ Polishes and Foam Buffing Pads (sold separately), the buffer's 1/2" (12 mm) random orbit makes it nearly impossible to burn the paint and provides a uniform, haze-free and professional-looking paint finish. The system enables paint shops to save time and money by repairing defects rather than repainting. It may also eliminate the need for a subsequent polishing step. The 3" 3M™ Random Orbital Buffers 28333 and 28769 are carefully engineered to optimize the performance of 3M™ Disc Pads and 3M™ Foam Buffing Pads for first-rate results. Use only with a foam buffing pad and never a wool pad.
Not exclusive to paint shops,
3M™ Buffers are an excellent choice for a variety of repairs
(PDF, 1.47 Mb) on different substrates across a wide range of industries — from paint and clear coat to lacquered wood, solid surface to acrylic.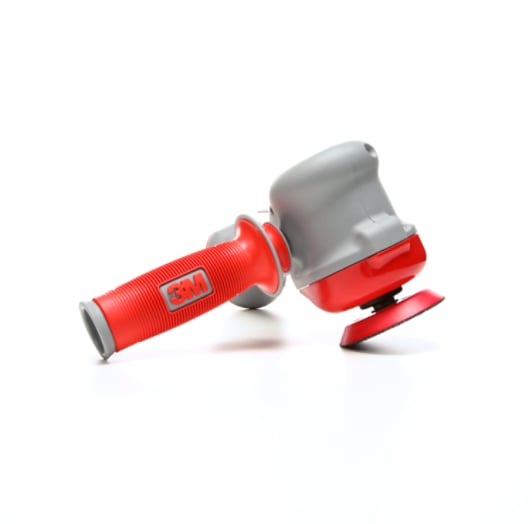 Tool grips feature 3M™ Gripping Material
Ergonomic Features Provide Maximum Comfort
For greater operator comfort, the tool grips feature patented 3M™ Gripping Material to reduce user fatigue, providing a secure hold and enhanced control with less hand pressure, even if polish finds its way onto the grip. Additionally, the gripping material helps reduce vibration for greater comfort. The tools also have a built-in muffler and rear exhaust. These features enable professional performance with less operator effort and fatigue.
3M™ Hookit™ Disc Pad Included for Optimal Performance
The included 3M™ Hookit™ Disc Pad has a low profile to accommodate a 3M™ Finesse-it™ Foam Buffing Pad or other hook-and-loop buffing pad (sold separately) and provides a secure hook-and-loop attachment for the pad. Constructed from premium, industrial-quality materials and featuring a riveted fiberglass and steel hub with molded urethane, the disc pad's durability and precise construction is the ideal complement to the industrial-level performance of the Buffers 28333 and 28769. Use the tool only with foam pads, never with wool. Professional results are optimized with the use of a very fine polish such as 3M™ Finesse-it™ Polish.