3M™ Cut-Off Wheels are used on rotary angle grinders for fast and efficient cutting of all metals. Our Cut-Off Wheels cut mild steel, non ferrous metal and stainless steel sheets, rods, tubes and profiles.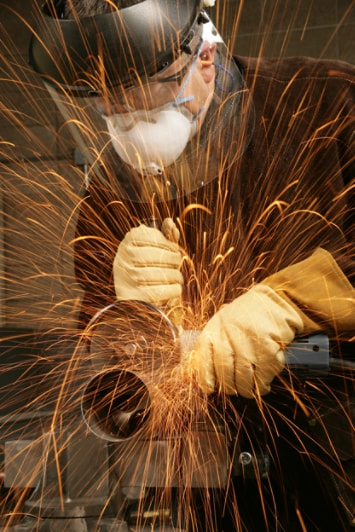 These thin abrasive wheels are used to trim blanks to length
Durable and Reliable
We engineer 3M™ Cut-Off Wheels with a variety of minerals and construction characteristics that effectively tackle a range of substrates. All are constructed with tough, durable abrasive grains that fracture under pressure to expose fresh cutting edges in use. Aluminum oxide wheels are a good choice for carbon steel applications, while ceramic wheels offer increased performance on many substrates including fiberglass, stainless steel and carbon steel. Wheels designed for use on stainless or mild steel incorporate heat-resistant properties to maintain a sharp cut and lengthen wheel life.
Correct Speed is Essential for Safety
Cut-off wheels must be attached to a cut-off wheel power tool designed specifically for the diameter of the wheel being used. For safety, cut-off wheels must be used with matched flanges and must always be used with a wheel guard that is compatible with the size of the wheel (See ANSI B7.1 for safety requirements). The cut-off wheel must have a maximum operating speed greater than or equal to the maximum speed of the power tool used. For safety, do not use on tools without guards!
Versatile Abrasive with Many Uses
Unlike abrasive discs, which shape or sand objects using the disc surface, cut-off wheels make a perpendicular cut through the work piece using the outer edge of the wheel. Abrasive cut-off wheels are typically used for cutting through metal, for example auto body or marine sheet metal, stainless steel tubing, exhaust pipes, clamps, shafts, and rusted bolts.
Learn more about Metalworking solutions
(PDF, 13 Mb)
3M Engineered for Optimal Performance
3M Abrasives engineers know abrasive construction. For more than 100 years, 3M has been a world leader in developing advanced abrasives. Our technologies have helped customers in virtually every industrial sector improve productivity, cut cost and achieve the consistent high quality finishes they need to compete in a world marketplace. Our 3M™ Cut-Off Wheels are one of the many ways 3M helps make industrial applications faster, easier and more reliable.