Organise your workspace and keep it neat with 3M™ PPS™ Dispenser. The 3M™ PPS™ Paint Preparation System Dispenser is a wall mounted storage unit, which allows easy access to well stored new liners / lids. It is suitable for all sizes of lids and liners of 3M™ PPS™ and 3M™ PPS™ Series 2.0 products.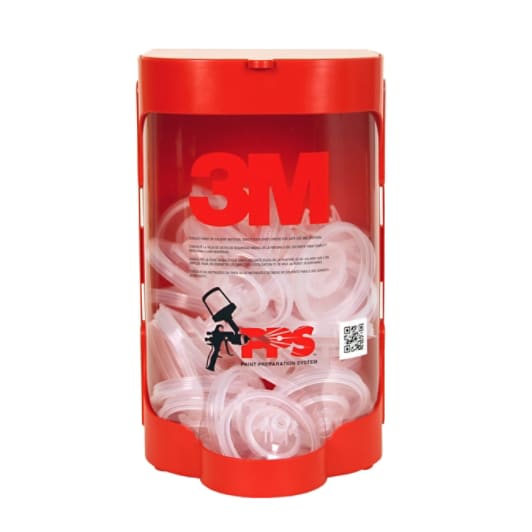 3M™ PPS™ Lid & Liner Dispenser is a wall-mountable unit that makes supplies such as lids and liners for the 3M™ PPS™ (Legacy) paint preparation system readily available. This storage accessory conveniently dispenses supplies one at a time, while keeping the remaining supply clean and safe from contamination. Dispenser makes it easy to access supplies such as lids and liners to be used with the
3M™ PPS™ (Legacy) paint preparation system
(PDF, 1 Mb). Dispensers will hold at least 50 units of either lids or liners. Workers can easily release just one at a time. These dispensers are wall mountable to keep supplies close at hand and countertops open. Supplies for the 3M™ PPS™ are kept clean, neat, organized and free from contamination in our dispenser. When it is time to restock supplies, the top-loading access feature offers exceptional convenience.
Part Number 16299
Part Number 16299
Part Number 16298
Advantages of the 3M™ PPS™ System
Unlike conventional paint cup systems, 3M™ PPS™ eliminates the need for mixing paint in additional paint mix cups and then transferring the paint through a separate filter into a paint reservoir. This is an important advantage because waste occurs every time that a user transfers paint through mixing cups and filters. With PPS™, you place the disposable liner within the re-usable PPS™ Cup. Then simply mix the paint in the PPS™ disposable liner, snap the disposable lid (with the pre-welded filter) in place and attach the locking collar to complete the PPS™ System. With just these few simple steps, you're ready to start spraying.
Your Spray Gun Functions at any Angle, Even Upside Down
PPS™ allows the painter to spray consistently 90° to the part, no matter how the part is positioned. This makes material transfer more consistent, limits paint overspray and lowers paint consumption. Because PPS is a closed system, you can operate in any orientation - i.e. 360 degrees.
Clean Up is a Breeze and Uses Less Solvent
After spraying, the painter can use a sealing plug to seal and protect paint materials or simply discard disposable lid and liner, leaving only the adapter and spray gun to clean. Discard the disposable lid and liner in the appropriate approved waste containers specified by the paint manufacturer (or local government requirements). Use a small amount of solvent for cleaning the spray gun and the PPS™ adapter. With this disposable paint system, shops are often experiencing a 70% reduction in cleaning solvents, which means solvent cleaning savings and solvent disposal savings. Most guns can be cleaned with less than 3 oz. of solvent.
A Versatile System that Works with Most Spray Guns
Specifically designed PPS™ stainless steel metal adapters allow painters to use the PPS™ system with
virtually any spray gun
(PDF, 310 Kb). Painters have also the option to use the
3M™ Accuspray™ ONE spray gun
(PDF, 3.7 Mb), which requires no adapters. Technicians have found that this spray gun further reduces cleaning solvent usage and cleaning and maintenance time.
Reduces the Chance of Contamination Between Jobs
Because the painter uses a new disposable lid (with welded-in filter) and disposable liner for each mix, there is less risk of outside contamination due to mixing, filtering, and clean up. Using a fresh lid and liner with each paint job, rather than washing out reusable components, often improves overall productivity in prep and clean-up time by as much as 50%.
The Bottom Line: Why 3M is the Paint Spray System of Choice
3M™ PPS™ is an all-in-one disposable painting system that produces cleaner jobs, saves on paint consumption and reduces solvent usage by up to 70%. Our goal is to help you operate with greater efficiency and spend less time on cleaning tasks (time associated with cleaning the paint reservoir and spray gun).
Learn More About 3M™ Accuspray™ ONE with PPS™