3M™ Fast Tack Water Based Adhesive 1000NF is a unique, water-based adhesive specially designed to deliver an effective combination of fast, heat resistant bonding, repositionability and high ultimate strength. Our adhesive is non-flammable, polychloroprene-free, which can contribute to lower insurance costs and increased workplace safety.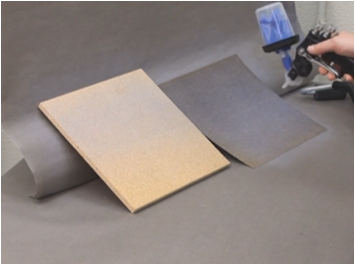 One-surface application
A Faster Bonding Time
3M™ Fast Tack Water Based Adhesive 1000NF bonds quickly while achieving handling strength in approximately one minute or less. Along with its fast action, the potential for one-surface application also increases productivity while using less product.
Adheres to Many Materials
By formulating an adhesive that is 48% solids, 3M™ Fast Tack Water Based Adhesive 1000NF provides up to three times more coverage than solvent based adhesives. It adheres to many types of flexible foam, latex foams, fabric, polyester fiberfill, canvas, wood, plywood, particleboard, and many plastic and metal surfaces. It is certified to GREENGUARD® Product Emission Standard For Children and Schools for low-emitting interior building materials.
Recommended Applications
High-temperature insulation applications
Pipe wrapping
Acoustical Insulation installation
Architectural and decorative paneling
Molded foam bonding
Adhesive can be applied by spray, brush or roller
Whether it is being sprayed, brushed or rolled on, the application of your 3M™ adhesive is a straightforward process. Start by carefully applying your adhesive to your surface until you've formed a uniform coat. Using an overlapping pattern, the application of one coat should prove sufficient for most surfaces. Effective adhesive coverage is accomplished when 80% or more of the surface is covered. Some substrates, including porous materials, may require an additional coat. In order to apply additional adhesive, simply wait until the existing adhesive becomes dry to the touch, and then proceed with the application of the additional coat.