Our 3M™ Strip-Caulk is a soft butyl rubber caulking material that quickly and permanently fills all types of seams, joints and openings – long-lasting auto body maintenance and repair in much less time.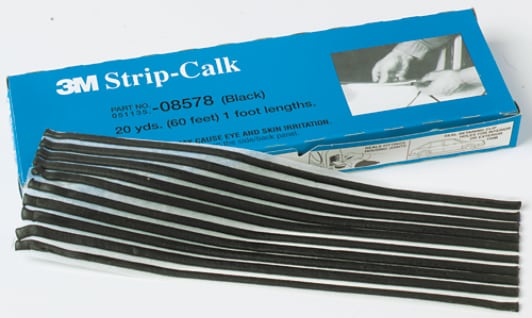 Simply press into place by your fingertips - no tools required
Soft, Yet Tough for Automotive Aftermarket
With its durable butyl rubber construction and permanently-pliable formula, our 3M™ Strip-Calk is ideal for filling non-visible automotive joints, seams, voids and gaps. This thumb-grade seam sealer arrives ready to install without mixing, spraying or tools. It thumbs in quickly and smooths with a fingertip. And its high heat resistance also makes it suitable for applications including engine compartment seams and firewalls.
A Permanent Seal
3M™ Strip-Calk never hardens or becomes brittle, so seams stay smooth and gaps stay filled. It is also non-shrinking, which makes it excellent as a sealer for plugging holes and preventing noise and moisture penetration. You won't have to reapply, and you'll never have to perform rework because the sealer shrank, dried up and stopped working.
The Science Behind Great Solutions for Auto Maintenance and Repair
It arrives in a box in neat 1-foot lengths, ready to use. It installs in minutes without tools. It's great as a seam and gap filler as well as a sealer for noise and moisture, even in high-temperature spaces. And it keeps performing, reducing rework and saving time and money. 3M™ Strip-Calk contains science at every step to make high performing auto repair and maintenance easy and profitable.