Guard against overspray of vehicles, with 3M™ Overspray Masking Liquid Dry. Our lightly-bonding film spray on water-based solution replaces time-intensive masking and is easy to clean – it simply dissolves in water and washes off.
Cleaner, More Versatile Masking
Overspray Masking Liquid-Dry works with solvent or water-based paint systems to protect vehicle surfaces from automotive primer, sealer, base color and clear coat overspray. This makes it suitable for use in body bays and paint bays during primer or paint application. And the transparent film makes it easy to move the vehicle after application, adding versatility to auto body operations.
Helps Save Time and Money from Application through Cleanup
The liquid masking sprays on easily using conventional spray guns so no equipment upgrades are needed, and it saves significant shop time for masking hard-to-reach surfaces or for smaller paint jobs that require bulk tape masking. It dries to a clear, non-tacky film in as little as 20 minutes and bonds lightly, protecting vehicle surfaces during paint or primer application and trapping dust and dirt under the film. It is safe to use on all thoroughly cured painted surfaces.
Note: Overspray Masking Liquid-Dry is designed to protect automotive surfaces from gentle paint overspray only, and is not intended to protect against a direct hit of paint or primer.
Because it dries onto the vehicle surface it eliminates the film flutter that can occur during conventional bulk masking, helping produce cleaner jobs throughout the shop. When primer or paint application is complete, the film simply dissolves and washes off in water for fast, easy cleanup. For best results do not leave on vehicles exposed to the sun.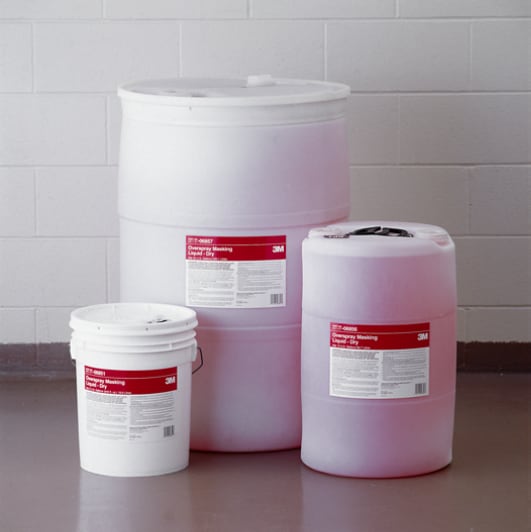 Economical Usage
3M™ Overspray Masking Liquid-Dry is available in a variety of sizes from one gallon to 55 gallons. One gallon of OML-D will cover approximately 400 square feet at 4.0 mils wet thickness (or about 4-5 average size vehicles per gallon). The proper wet application rate will yield a dry film thickness of approximately 0.4 mils.
The Science for Better Auto Body Paint and Primer Application
3M provides liquid masking, another way to apply science for better procedures and better results in auto body repair and maintenance. Our lightly bonding spray-on water-based solution replaces time-intensive masking jobs. And its easy cleanup — it simply dissolves in water and washes off — can make your entire collision repair operation smoother, more versatile and more efficient.