Scotch-Brite™ Clean and Strip XT Disc is specially engineered to effectively clean welds, remove rust and strip paint. Our aggressive discs feature an open web design. They can be mounted on a straight shaft tool or bench motor.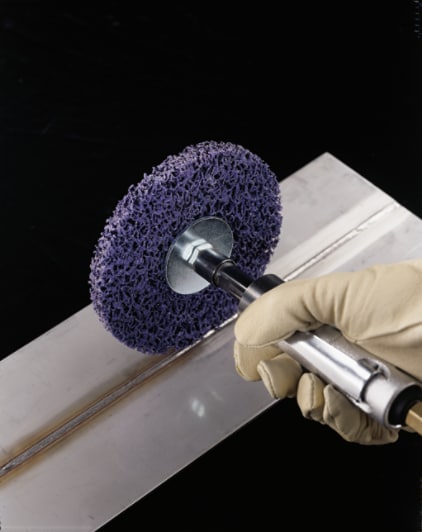 Removes weld discoloration and rust from metal surface with proper speed tool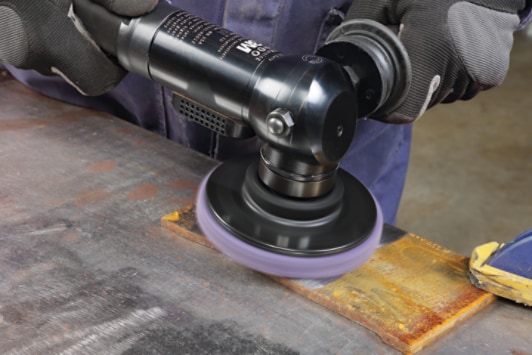 Works with 3M™ Pneumatic Power Tools for Right-Angle Systems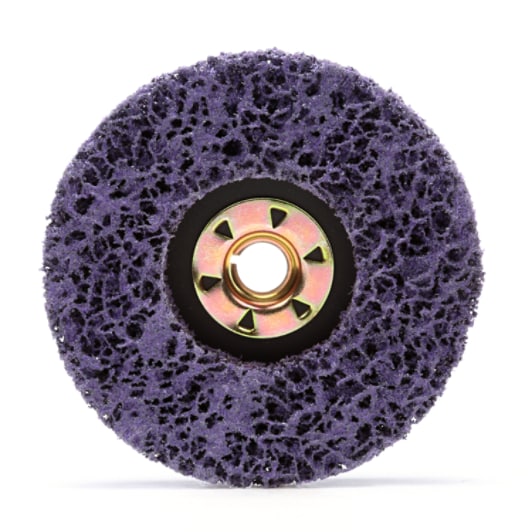 Open nylon web resists loading
Aggressive Cut, Spongy Open Web
To engineer Scotch-Brite™ Clean and Strip XT Disc, 3M combined extra coarse silicon carbide mineral and non-woven nylon fibers using resin. Silicon carbide is a synthetic mineral that is very sharp and commonly used for low-pressure applications such as paint prep. While it breaks down faster than aluminum oxide, it produces a superior finish. Altogether, this surface conditioning disc delivers a sharp, consistent cut without gouging or marring the workpiece.
The resin bond strengthens the disc and breaks down gradually to reveal new fibers and sharp mineral, so you get a consistent cut over the life of the abrasive. Moreover, gaps in the nylon fibers permit air flow, which may reduce the risk of heating or warping the substrate. The sharp-cutting mineral and responsive open web make this abrasive well suited for projects like coating, sealant and rust removal and weld cleaning. Additionally, it is a good paint removing disc.
The Many Benefits of Open Web Abrasives
Nonwoven technology makes Scotch-Brite™ industrial abrasives unique. A combination of fiber strands, resin, and abrasive mineral forms a thick, open web. The spring-like nature of the fibers responds to contours and effectively removes unwanted burrs, soils, and contaminants while maintaining the geometry of the workpiece, which in turn reduces rework and boosts productivity.
Gaps in the web allow swarf to escape, so debris does not clog the mineral. Fibers in the web continually break down with use to reveal fresh mineral for exceptional consistency, superior cut performance, and extremely long service life. Scotch-Brite™ products not only enhance productivity, but also increase operator safety by reducing the need for cleaning chemicals and pastes, and replacing wire brushes that can break off and cause injury. From aesthetic finishing to weld blending, deburring, and more, Scotch-Brite™ abrasives work fast and deliver consistent results, part after part.