Scotch-Brite™ Clean and Strip Disc is designed to effectively clean welds, remove rust and strip paint. Our extra coarse grade open web discs provide a smooth running loading-resistant wheel, which is ideal for removing soft coatings.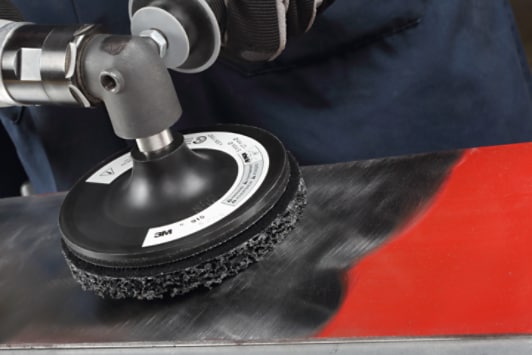 Paint Stripping Application
An Abrasive for High-Production Environments
Scotch-Brite™ Clean and Strip Disc has all the benefits operators have come to expect from Scotch-Brite™ abrasives, including good load resistance and consistent cutting action. In fact, its ability to withstand debris makes it a good match for high-production environments and projects that generate a lot of dust, such as coating and corrosion removal. Scotch-Brite™ Clean and Strip Disc features a standard attachment system and may be connected to a backstand, right angle grinder or die grinder.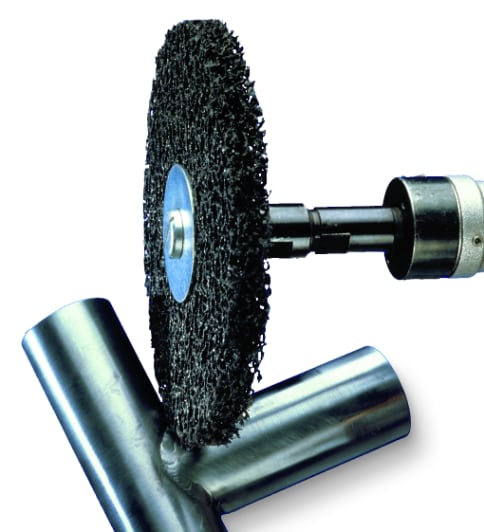 Corrosion Removal Application
Silicon Carbide Mineral Cuts Sharp and Leaves a Bright Finish
Nylon fibers on Scotch-Brite™ Clean and Strip Disc are interspersed with extra-coarse (XCS) silicon carbide mineral. We chose extra-coarse (XCS) mineral, because it cuts more aggressively than minerals in a finer grade. Among synthetic minerals, silicon carbide is one of the sharpest. It breaks down faster than aluminum oxide but leaves a finer finish.
The Many Benefits of Scotch Brite™ Abrasives
As a Scotch-Brite™ product, this disc is engineered with open nylon web, which is why it's such a great match for cleaning welds, removing rust and stripping paint. The gaps between nylon fibers permit debris to escape. The benefits of this are twofold. First, it enhances the abrasive's ability to withstand loading.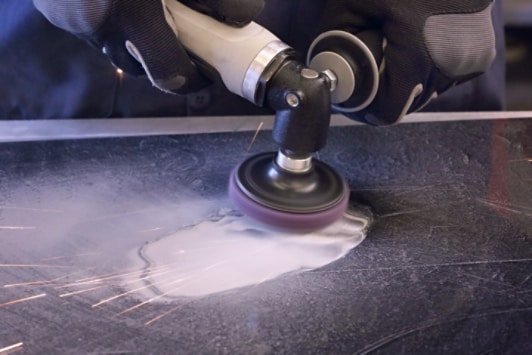 Stripping Application
Second, because the abrasive does not get clogged with debris as easily, it has prolonged service life. The nylon fibers break down continuously during grinding, revealing fresh mineral for ongoing sharp cutting action and consistent finishes — part after part.