Scotch-Brite™ Radial Bristle Brush, using our proprietary ceramic abrasive grain blended with aluminum oxide and molded, flexible bristles, provides more surface contact than wire brushes and maintains abrasive property throughout the life of the brush. Our brush removes paint, stains, adhesives, weld burns, rust, heavy oxides, and surface contaminants.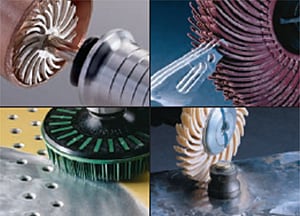 Useful for a wide range of applications
A Good Alternative for Steel Wool
Under normal use, the flexible bristles remain safely in place and can achieve the desired finish using light pressure.

Our Scotch-Brite™ Radial Bristle Disc is designed to last longer than wire and other abrasive discs and works well on aluminum, brass, bronze, carbon steel, cast iron, stainless steel, and other metals. Applications include general industrial, aerospace, automotive, metalworking, transportation, and automotive as well as fine detailing requirements of electronics, jewelry and woodworking industries.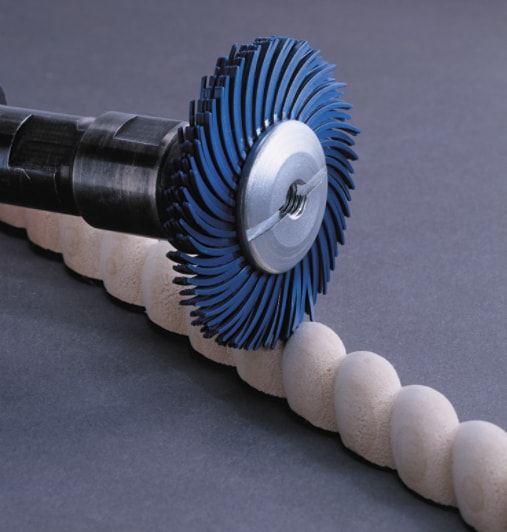 Good for contouring work
Ideal for Robotic Deburring
With a wide range of conformability options and high consistency, long-lasting Scotch-Brite™ industrial abrasives are a great option for robotic deburring. Scotch-Brite™ Radial Bristle Brush quickly removes burrs and sharp edges in end-of-arm tooling operations, delivering consistent performance through the full life of the abrasive.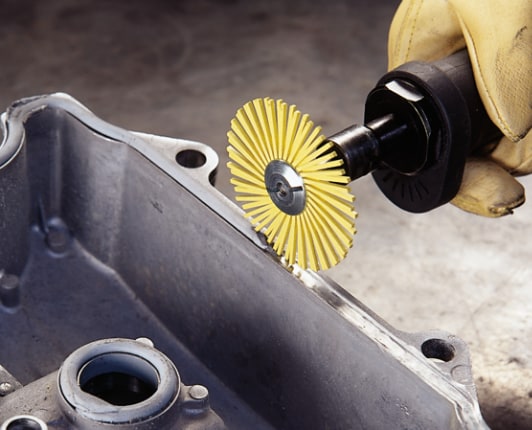 Good for edge work
The Many Benefits of Ceramic Abrasive Grain
Ceramic abrasive grain is a ceramic mineral manufactured using one of our proprietary processes to enhance toughness and hardness of the grain. For increased performance, Scotch-Brite™ Bristle Discs feature aluminum oxide blended with ceramic abrasive grain for one of the hardest, longest-lasting minerals available. Perfect for moderate to heavy stock removal, ceramic abrasives are engineered to cut fast and handle intense heat and stress applications. Ceramic abrasive grain surpasses aluminum oxide abrasives in cut-rate, durability, and makes an excellent choice for industrial grinding and finishing applications.